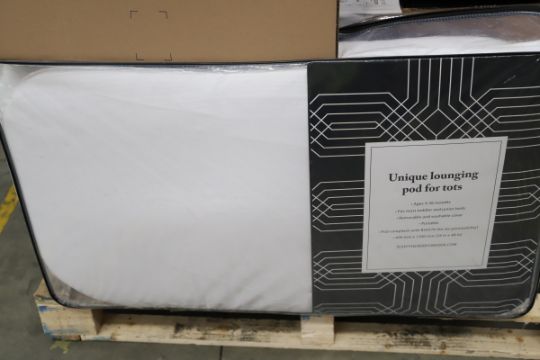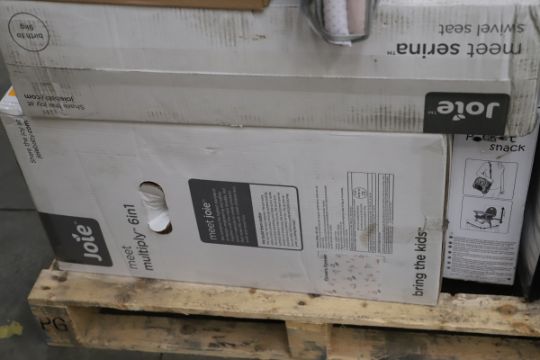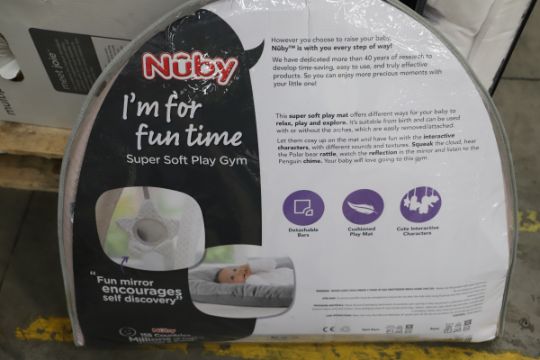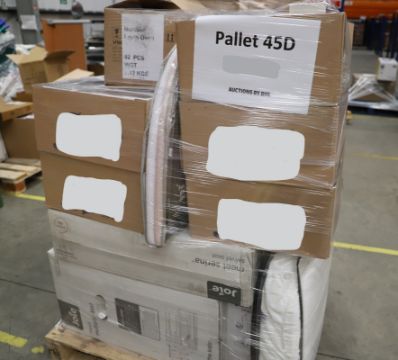 Click on the image to see full size
Use mouse wheel or two fingers to zoom in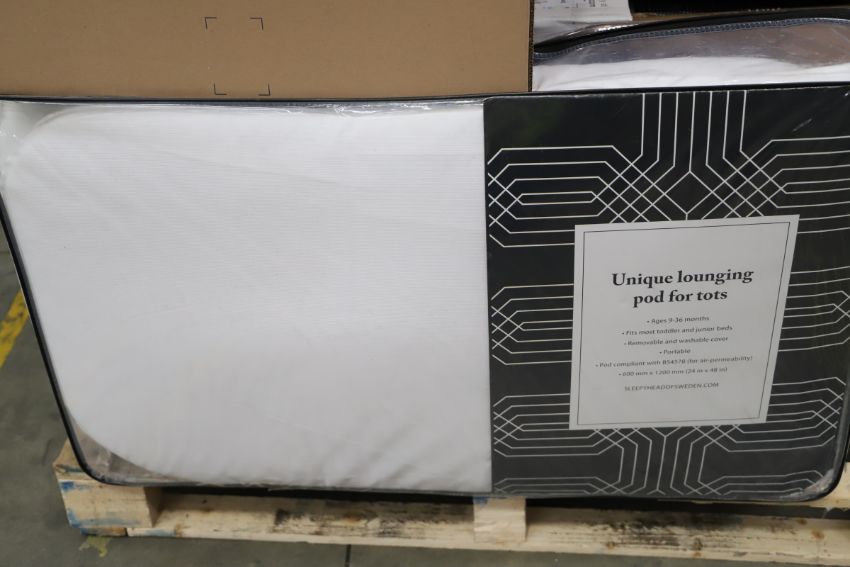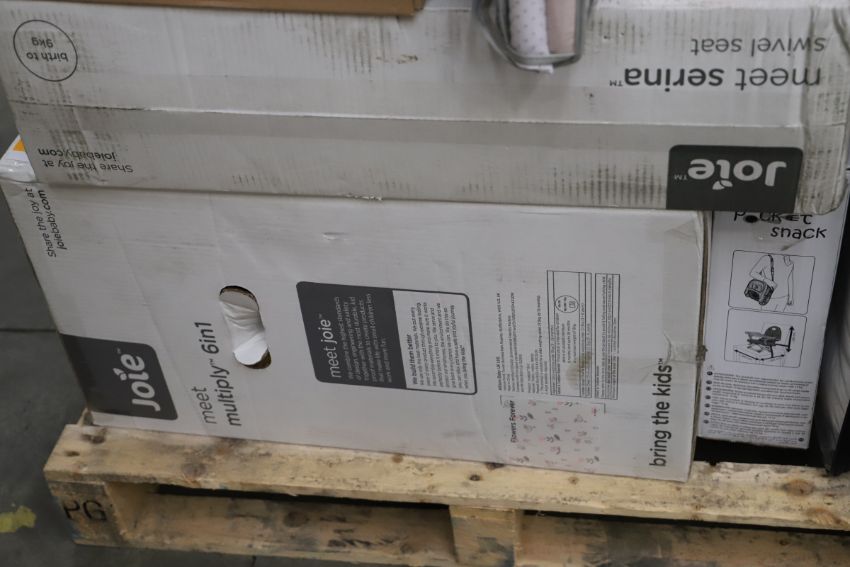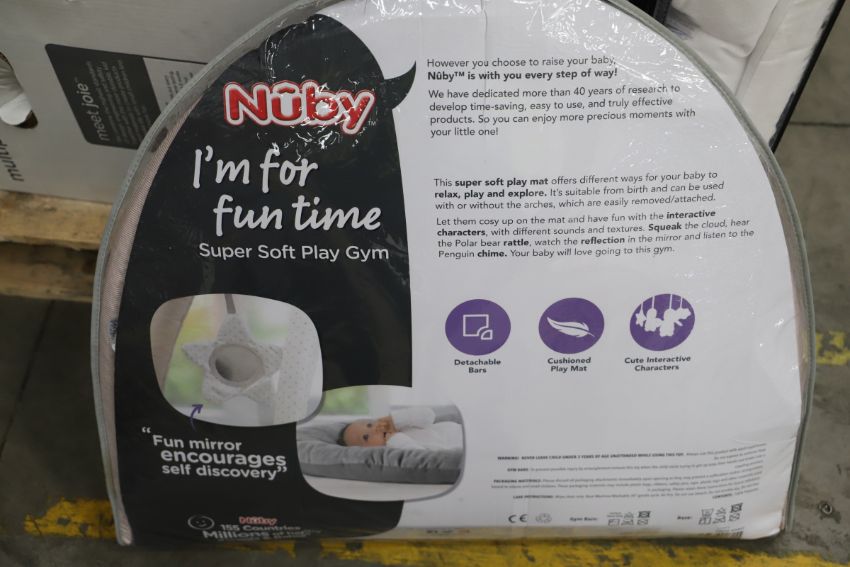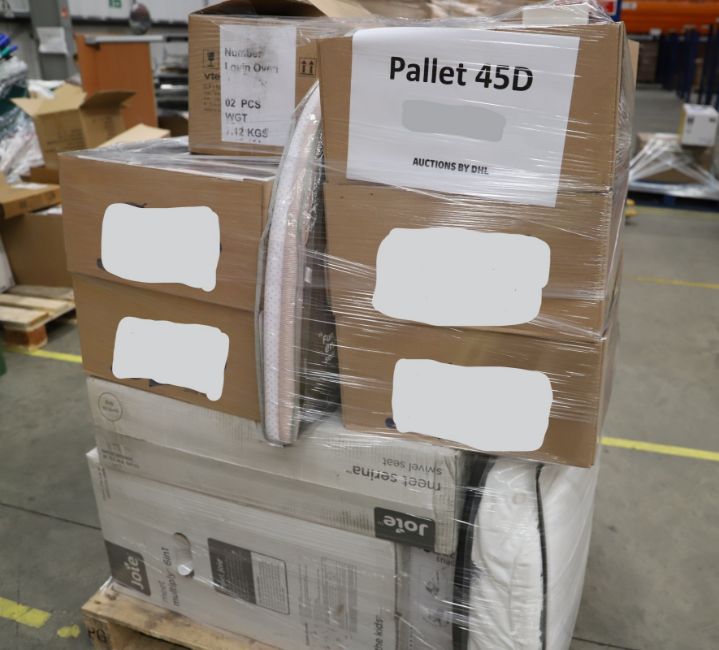 Please confirm purchase
You are about to buy this lot for
0
GBP
Bids do not include VAT, buyer's premium or delivery.
Clicking the confirm button is legally binding obligation to buy and pay for the lot should your bid be successful.
Proceed With Buy It Now?
We have noticed that your maximum bid is higher or equal to the buy it now price for this lot.
Would you like to discard your maximum bid and proceed with the buy it now option?
Timed auction
Lot location
Northants, Northampton
Description: 135 Items - mixed lot containing:
SKU 6199291 Chicco Pocket snack booster seat Lime x1
SKU 6808069 Fisher Price rainforest deluxe gym x2
SKU 8438803 Joie Serina Swivel Natures Alphabet x1
SKU 8445710 Multiply Highchair - Forever flowers x1
SKU 8460914 Sleepyhead Grand Pod Pristine White x1
SKU 8709963 Nuby Nursery play gym x1
SKU 8617279 ROI WWE Microphone Set x128
Approximate RRP £1891.00
Auctions by DHL

Grade: B = Customer returns and ex-display stock in virtually "As New" condition & complete with all accessories; or new stock with slightly distressed packaging.
C =Customer returns in graded condition with minimal signs of use. Complete with accessories (may not have instruction books). May not be in original packaging.

Pallet or Parcel: Pallet
Number of Pallets/Parcels: 1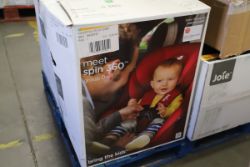 Venue address
DHL Supply Chain
E-COMM HQ - Unit E
Danes Way DIRFT EAST
Northants, Northampton
NN6 7GX
United Kingdom
Once payment is cleared, your consignment will be delivered within 5 working days.
This Website (https://www.logistics.dhl/gb-en/home/our-divisions/supply-chain/solutions/integrated-solutions/auctions-by-dhl.html and www.ibidder.com) ("Website") is provided by DHL Supply Chain Limited (referred to as "DHL"). As a user of this Website on behalf of the business you represent, you acknowledge that any use of this Website including any transactions you make via this Website are subject to the terms and conditions and Privacy Policy below ("Terms & Conditions").
1. General
1.1. We reserve the right to change these terms and conditions at any time, to take effect when posted on the Website; please read the terms and conditions whenever you use this Website. Your continued use of the Website shall signify your acceptance to be bound by the latest terms and conditions.
1.2. We reserve the right to modify or withdraw all or any part of this Website upon notice.
1.3. We are not a retail company and all is we promote and make available are as Agent and on behalf of the Product Owners. These sales through the Website are intended to be business transactions to the "trade". By using this Website you confirm that you are doing so only in the course of business and not as a non-trade consumer and that you do so for yourself rather than as agent for any third party.
1.4. You agree to ensure that your registration details are up to date and accurate at all times.
1.5. You agree to only use one account per user.
1.6. We reserve the right in our absolute discretion to refuse any application to register, to limit or cease access to the Website and our services and to temporarily or indefinitely suspend any registered members.
1.7. You are responsible for keeping your personal user name and password secure and confidential.
1.8. If you believe that your user name and/or password have become known to another person or you are aware of any breach of security regarding the online services, then you must notify us immediately.
1.9. You agree to comply with all applicable laws, statutes and regulations concerning your use of the Website.
1.10. Neither employees of the DPDHL group of companies nor their immediate family members may directly or indirectly use this Website and/or any associated services.
1.11. All permitted users must be at least 18 years old.
2. Online auction
2.1. Your registration is necessary prior to making any bid or using the Website's online services. You agree to comply with the Website rules and terms of use.
2.2. Any bid that you make via this Website will constitute a legal offer to buy the product(s).
2.3. By bidding for a product you agree to be bound by the conditions of sale included in the product description on the Website.
2.4. Any bid that you submit will remain open for the period specified on the Website.
2.5. The winning bid in any auction will be the highest bid at the end of the auction providing it meets the reserve price (if any) and the conditions that are specific to that auction
2.6. If your bid is successful you will be contacted by us to confirm that you have placed the winning bid. Legal acceptance of your bid will not take place until we acknowledge your winning bid and we have received your payment in full for the product(s) and the product(s) have been despatched to you.
2.7. In placing a bid you cannot then withdraw that bid and you acknowledge and agree that if your bid is the highest bid and acceptance of your bid takes place in accordance with Section 2.6 above, then you will have entered into a legally binding contract to purchase the relevant product(s).
2.8. We have full discretion to refuse to accept your bid or withdraw any lot for whatever reason at any time. We also have the right in our discretion to cancel or stop an auction at any time, e.g. if an error on reserve price has been made on the Website.
2.9. If payment is not made as required by the Standard Terms and Conditions, whether due to our inability to contact you or otherwise, then we may offer the product(s) to the next highest bidder or otherwise dispose or deal with the product(s) by any other means we choose.
2.10. We may set an applicable minimum bid or reserve prices for product(s) auctioned via the Website and then change these at any time during the auction period. If an auction subject to a reserve ends and the reserve price is not met, then no contract to purchase the product(s) will take place.
3. Products
3.1. DHL specialises in wholesale stock clearance, primarily selling new or A graded stock (see our grading guide for more information). Please read the full product listing as on occasion this may provide additional information relating to condition and grading.
3.2. Product(s) for sale via the Website usually fall into one of the following categories:
"A Grade" New unused stock: Please note that in some instances this stock may have been subject to previous distribution to stores within our network and subsequent recall to centralised distribution and may have been stored in warehouses and/or retail stores for some time. Packaging may show some signs of wear from transit with the occasional box having been opened. Some items may have been viewed by customers in stores, and some products may even have been on display before being repacked and returned. All of these factors can mean that product may have some missing packaging or could even potentially be marked. When dealing with very large volume reverse flows and human interactions it is possible that mistakes may be made in product inventory, hence our clauses around inventory quantities within these T&C's. It is also possible that a store returning a product to a warehouse may on occasion wrongly classify a product, however we do take reasonable care to ensure that this isn't a regular occurrence.
"B" Customer returns and ex display in virtually "As New" condition & complete with all accessories, or new stock with slightly distressed packaging.
"C" Customer returns in graded condition with minimal signs of use. Complete with accessories (may not have instruction books). May not be in original packaging.
"D" Customer returns missing some accessories mostly working. May have more visible signs of use.
"U" or "Untested Returns" Mixed products that are deemed unfit for resale. These will include:
Mostly returns from customers as "faulty" although no testing at store or warehouse has taken place. This product may be missing some accessories. Model changes could have occurred which may mean you receive a similar or same specification item. Original packaging may be missing;
Other returns from customers under our retail clients' return policies. These goods are not necessarily faulty, however no testing at store or warehouse has taken place. This product may be missing some accessories. Original packaging may be missing;
Products damaged in distribution or store processes;
Products which cannot be resold to consumers following return either because they are personal care items such as shavers or digital storage devices. e.g. Digital cameras or MP3 players;
3.3. All "Untested Returns" sold through this Website are sold on the condition that the merchandise will either be repaired, reworked or recycled by the purchaser to allow future resale to an end user, or alternatively will be resold as second hand in the same condition that it is purchased on this Website. Each product is sold on the understanding that it will not be resold as 'new' and that any electrical products will be tested by a qualified electrician before resale.
3.4. To the fullest extent permitted by law, no warranty or representation of any kind, either express or implied, is given as to the quality, condition or fitness for purpose of the merchandise, nor is any warranty or representation to be inferred from anything said or written by us prior to purchase.
3.5. By purchasing "Untested Returns" through this Website you undertake not to sell such products to consumers and to prohibit those buying them from you from reselling the products to consumers without full compliance with all current and future Waste Electrical & Electronic Equipment (WEEE) Regulations & General Product Safety Regulations (GPSR), and you shall indemnify us fully in respect of any obligations resulting from any sale or disposal you make or onward sale or disposal by those to whom you sell the products as imposed by WEEE & GPSR Regulations and any other such applicable laws or regulations.
3.6. The quantity of units sold with any lot are provided in good faith. Discrepancies may occur and any above 3% of the expected purchase quantity per lot would need to be reported to us within 48 hours of receipt for investigation. You accept that we will not be responsible to you for any unit shortfall in the lot, except where the value of the shortfall is greater than 6% of the total value of the products sold in the lot. We accept and will not challenge any discrepancies in units in your favour unless the excess value is greater than 10% of the value of the lot.
4. Pricing Information
4.1. Any retail price shown in the auction listings is provided as guidance only and is intended to be indicative of the price the products may be sold at retail. This will not reflect any promotional prices that may have been charged.
4.2. No statement made by any person as to the quality or condition of any merchandise on offer is to be relied upon for the purpose of making an offer to purchase.
4.3. All merchandise is sold on an "unseen" basis. If you wish to inspect the merchandise offered for sale, this may be possible in certain circumstances. In such instances, you must contact DHL prior to making any bid. Where feasible we will endeavour to accommodate your request to view the lots at their current storage location.
4.4. Unless forming part of the product, all branding and other identifiers of the seller or manufacturer are to be removed from products purchased if they are being resold. When reselling such products, you undertake not to use any intellectual properties belonging to the seller.
4.5. If we reasonably conclude that merchandise sold to you under these Terms & Conditions has been re-sold by you or a third party (whether through eBay, Amazon or otherwise) without all references and identifiers to us or the seller having been removed prior to such re-sale, then without prejudice to any other rights or remedies we may have, you shall be liable to us to the value of the lot under which the offending products were sold to you.
4.6. Where merchandise is purchased from you in multiple units, you shall keep an accurate log of who you sell the products to and forward a copy of the same to DHL upon request.
4.7. Upon 48 hours' written notice, we (or through our nominated representatives) reserve the right to conduct an audit of your records at the location where they are held to ensure that you are complying with these Terms & Conditions.
4.8. In the unlikely event that any electronic products purchased contain any personal data from previous users/owners, then this data must be deleted prior to any subsequent resale.
5. Delivery
5.1. All products purchased must be signed for by an adult aged 18 years or over upon delivery.
5.2. Title and ownership of product(s) along with risk of loss of and damage to the product(s) will pass to you upon receipt of payment.
5.3 All goods are delivered in line with RHA Conditions of Carriage (2009), a copy of which can be obtained upon request.
5.4 Customer may request DHL to arrange where available, Transport Insurance at DHL's standard rates or at rates to be agreed. Customer must request this within 4 hours of auction close. 12% Insurance premium tax is also applied to the calculated insurance premium . Such insurance is subject to a minimum charge of £10 plus 12% insurance premium tax.
Insurance will be confirmed via the sales invoice sent to you before payment. If Insurance is not listed on the invoice then insurance is not in place.
For insurance quotation and policy information, please email auctions@dhl.com
6. Payment
6.1. Payment in full is required to clear before any merchandise may be despatched for delivery. Payment may only be made by online payment.
6.2. The price you pay is the bid price plus our commission (at the stated value) ("Price"). VAT is payable in addition to the Price along with applicable delivery charges (unless expressly stated otherwise). Please see the Website for itemised details of any non-standard VAT and other charges.
6.3. If we discover an error in the reserve price of product(s) on the Website and your bid is below the reserve price, we will inform you as soon as possible. In such circumstances, we will treat the bid as cancelled. If you have already paid for the product(s), you will receive a full refund.
6.4. We require payment to be made in full within 72 hours of the relevant auction ending. "Buy it Now" items reflect the Price. Payment for "Buy it Now" items require payment of the fixed Price plus VAT within 10 minutes of your purchase. Your failure to pay within this time will result in the sale being cancelled and we reserve the right to re-auction.
6.5. When a refund has been acknowledged and confirmed we will endeavour to credit your payment card back within 7-10 working days.
7. Returns
7.1. No returns will be accepted and no credit will be allowed for previously undiscovered defects or discrepancies in description. This does not affect any statutory rights that you may have to the extent that such rights are not excluded or limited under these Terms & Conditions.
7.2. As products sold on this Website are sold on a 'trade' only basis, you are not covered by legislation that protects non trade consumers. Regardless of the classification of the merchandise on sale, all is sold on this site without any form of warranty or guarantee save as to title. All future liability relating to the products you purchase shall rest with you alone. Unless specifically covered by any terms of sale specific to the goods at auction, you will NOT be compensated for product faults that develop after purchase.
7.3. Under no circumstances must any product purchased through the Website be returned to a third party retailer or other outlet. Any rights of return must be in accordance with the Terms & Conditions only. Attempted returns to any third party retailer will likely be treated as fraud or attempted fraud.
8. Intellectual Property
8.1. You acknowledge and agree that, in relation to us and the seller, all copyright, trademarks and all other intellectual property rights in all materials and/or content made available as part of your use of this Website shall remain at all times vested in us and the seller respectively. You are NOT permitted to use this material except as may be expressly authorised.
8.2. You further acknowledge that any other use of the material and content of this Website is strictly prohibited and you agree not to copy, reproduce, transmit, publish, display, distribute, commercially exploit or create derivative works of such material and content and shall not authorise or facilitate any third party to do so either.
8.3. In relation to any information, materials or other content that you submit to us via this Website, you grant us a non-exclusive, royalty-free, perpetual, irrevocable and fully sub-licensable right to use and reproduce such information, ideas, know-how, concepts, techniques and materials for any purpose, including without limitation the copying, transmission, distribution and publication unless restricted by applicable law.
9. Liability and Indemnity
9.1. Nothing in the Terms & Conditions excludes or limits liability for death or personal injury caused by negligence, fraudulent misrepresentation, or any other liability which may not otherwise be limited or excluded under applicable law, nor shall any right be excluded or restricted to the extent it cannot be so excluded or restricted as a matter of law.
9.2. Subject to Section 9.1 above, we will use reasonable endeavours to verify the accuracy of any information on the Website but make no representation or warranty of any kind (express or implied, statutory or otherwise) regarding the content or availability of the Website or that it will be timely or error-free, that defects will be corrected, or that the Website or the server that makes it available are free of viruses or bugs or represent the full functionality, accuracy, reliability of the Website. We shall not be responsible or liable to you for any loss of content or material uploaded or transmitted through the Website and we accept no liability of any kind for any loss or damage from action taken or taken in reliance on material or information contained on the Website.
9.3. Subject to Section 9.1 above, we will not be liable, in contract, tort (including, without limitation, negligence), representations or otherwise out of or in connection with the Terms & Conditions for (i) any economic losses (including without limitation all loss of revenues, data, profits, contracts, business and anticipated savings) (ii) loss of market, goodwill or reputation, or (iii) consequential, special or indirect losses suffered or incurred, or (iv) any third party claims.
9.4. Without prejudice to Section 9.1, our aggregate liability (whether in contract, tort or otherwise) for all loss, damage and other liability in relation to any lot of products purchased shall be limited to a sum equal to the amount paid by you for that lot.
9.5. We and you acknowledge and agree that save to the extent expressly included in the Terms and Conditions, the requirements of the Electronic Commerce (EC Directive) Regulations 2002 are excluded to the fullest extent permissible by law.
9.6. We will take all reasonable precautions to keep the details of your order and payment secure, but, unless we are negligent, we cannot be held liable for any losses caused as a result of unauthorised access to information provided by you.
9.7. You agree to fully indemnify, defend and hold us harmless immediately upon demand from and against all actions, liability, claims, losses, damages, costs and expenses (including legal fees) we incur arising directly or indirectly as a result of your breach of the Terms & Conditions.
10. Product Recalls
10.1. It is your responsibility as a trade purchaser to check for any product recalls. If you believe you have purchased a recall product regardless of grade, please contact us by email at auctions@dhl.com stating the lot number at auction, product number and description, date of purchase and quantity of items purchased. We will require proof of disposal, or the stock returned to us to arrange disposal before any refund is processed. Once records have been confirmed, we may offer a refund of the price paid by you for the affected merchandise. Please be aware it is your responsibility to contact your customers that have purchased any recall items from you on the matter.
11. Miscellaneous Provisions
11.1. The contract between us shall be governed by the laws of England and any dispute between us will be resolved exclusively in the courts of England. English is the only language offered for the conclusion of the contract.
11.2. Unless otherwise stated, products are selected on the basis that they will be used for domestic use only. Any proposed alternative use shall be at your sole risk.
11.3. In any event, we shall be under no liability for any delay or failure to perform any obligation as specified in the Terms & Conditions if the same is wholly or partly caused whether directly or indirectly by circumstances beyond our reasonable control.
11.4. To provide increased value to our customers, we may provide links to other websites or resources for you to access at your sole discretion. You acknowledge and agree that, as you have chosen to enter the linked website, we are not responsible for the availability of such external sites or resources, and do not review or endorse and are not responsible or liable, directly or indirectly, for (i) the privacy practices of such websites, (ii) the content of such websites, including (without limitation) any advertising, content, products, goods or other materials or services on or available from such websites or resources or (iii) the use to which others make of these websites or resources, nor for any damage, loss or offence caused or alleged to be caused by, or in connection with, the use of or reliance on any such advertising, content, products, goods or other materials or services available on such external websites or resources.
11.5. You may not assign or sub-contract any of your rights or obligations under the Terms & Conditions or any related order for products to any third party unless we agree in writing.
11.6. We may transfer, assign, novate or sub-contract the benefit of the whole or part of any of our rights or obligations under the Terms & Conditions or any related contract to any third party.
11.7. If any portion of the Terms & Conditions is held by any competent authority to be invalid or unenforceable in whole or in part, the validity or enforceability of the other sections of the Terms & Conditions shall not be affected.
11.8. The Terms & Conditions do not create or confer any rights or benefits enforceable by any person that is not a party (within the meaning of the U.K. Contracts (Rights of Third Parties) Act 1999) except any member of the DPDHL group of companies shall have the right to enforce any rights or benefits under the Terms & Conditions (as well as any limitation or exclusion of liability in the Terms & Conditions);
11.9. No consent from any third party is required to vary or rescind the Terms & Conditions (whether or not in any way that varies or extinguishes rights or benefits in favour of such third parties).
11.10. No delay or failure by us to exercise any powers, rights or remedies under the Terms & Conditions will operate as a waiver of them nor will any single or partial exercise of any such powers, rights or remedies preclude any other or further exercise of them. Any waiver to be effective must be in writing and signed by our authorised representative.
11.11. The Terms & Conditions (including the documents or other sources referred to in the Terms & Conditions) supersede all prior representations understandings and agreements between us both relating to the use of this Website and sets forth the entire agreement and understanding between us for your use of this Website.
11.12. This Website is operated by
DHL Supply Chain Limited,
Solstice House
251 Midsummer Boulevard,
Central Milton Keynes,
MK9 1EQ
Registered Company Number 528867 (Incorporated in England)
VAT Number 230113042
11.13. We recommend that you print out a copy of the Terms & Conditions for your future reference as well as any changes that may be made from time to time.
11.14. If you have any questions regarding this Website, please see the Contact Us web page for more details.
Important Information
Please ensure you are familiar with our full terms and conditions before bidding. DHL services the reseller market, specialising in wholesale stock clearance, primarily selling new or A graded stock (see our grading guide for more information). We are not a retail company, therefore, all sales sit outside the standard consumer legislation. By bidding, you are entering into a legally binding contract to complete payment in accordance with DHL's terms and conditions. The address listed refers to our office and not where the items themselves are stored. PLEASE TAKE EXTRA CARE WHEN READING THE SHIPPING PRICING AND INFORMATION.
Costs
Successful buyers are required to pay the winning bid price, plus a 20% Buyers Premium on top. Please Note: the winning bid price is subject to VAT. Shipping costs will also be included on your final invoice.
Secure Payment
Once the auction is closed, we will email you a 'Payment Request' link whereby you can conveniently and securely pay for your items using a credit or debit card. Alternatively, we reserve the right to request payment by bank transfer. Any additional fees incurred as a result of a bank transfer payment are the responsibility of the bidder. Bank transfers to be paid in pounds sterling.
To avoid any additional storage or late payment fees, payment is required via this method within 24 hours of the auction closing. Please Note – Items will not be released for shipping until we are in receipt of cleared funds. We do not accept card payments over the phone. Payment must be made via the link in the payment request sent post auction.
Payments can take up to 24 hours to appear in our accounts once you have paid, shipping cannot be arranged until payment is received in our account.
Descriptions and Images
Please ensure you read all descriptions carefully. Wherever possible, we will use actual photos of the items/lot. On some occasions, we may need to use stock photography.
Product Grading
The grading system is as follows:
A = New unused stock
B = Customer returns and ex-display stock in virtually "As New" condition & complete with all accessories; or new stock with slightly distressed packaging.
C =Customer returns in graded condition with minimal signs of use. Complete with accessories (may not have instruction books). May not be in original packaging.
D =Customer returns missing some accessories mostly working. May have more visible signs of use.
E = Previously used items in working order but with visible signs of general wear and tear. May have minor faults.
U = Untested Returns.
Shipping
Our shipping service provides a convenient and cost-effective delivery solution. Shipping is automatically added to your invoice based on the address information you have provided. Once your payment has cleared, your items will be despatched.
STANDARD SHIPPING CHARGES*
Parcels (per parcel)
England, Scotland & Wales: £10.
Northern Ireland: £25
Ireland: £30
Pallets (per pallet)
England: £50
Wales: £60
Scotland: £70
Please note – shipping costs exclude VAT. Collection of items is not usually permitted.
*The cost to ship some items may fall outside of our standard rates. DHL reserves the right to adjust shipping charges where applicable
Viewing is only available to approved registered bidders and is strictly by appointment only.
All goods are delivered in line with RHA Conditions of Carriage (2009), a copy of which can be obtained upon request. Customer may request DHL to arrange transport insurance where available. Please refer to T&C's for more information.